Welcome to FretlessFlute.com – the site all about bending notes on the flute!
I've been bending notes my entire adult life, and I can demonstrate it and teach you how
to do it yourself. But….."why bend notes on the flute?", you ask.
"TOP 10 REASONS TO BEND NOTES ON THE FLUTE"
Because: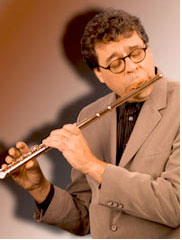 You can.
It's Cool.
It's Fun.
It leads to smoother, seamless legato.
It's a gateway to the study of ethnic flutes.
Very useful for jazz playing and improvisation.
Comes in handy for Avant-Garde pieces and New Music.
Makes you a more versatile and employable flutist.
Helps you relax and not Fret about your music or your life.
Bonus Benefit: It will drive [insert name of nemesis, arch-rival or personal musical tormentor] nuts!
So check out the site – and LET'S  GET  BENT!
Steve Kujala

Steve Plays FRETLESS FLUTE SONG

Try Before you Buy!
Fretless Flute Tutorial, Lesson #1 Promo